For Music Lovers in the Alpine area around Lake Tegernsee
it has become the highlight every summer – First Class Chamber Music
We are proudly presenting the 33rd edition of our festival which can presumably happen with no further restrictions.
Corona is not gone however and it may be advisable to wear masks and avoid handshakes to protect yourself and others.
At the Open-Air-Concert at the Castle of Ringberg there will only be drinks available – no food as in the past.
We look forward to seeing as many people as possible – the programme 2022 is full of highlights which ought not to be missed.
With all best wishes
The Board
Musikfest Kreuth e.V.
Nördliche Hauptstraße 3
D-83708 Kreuth am Tegernsee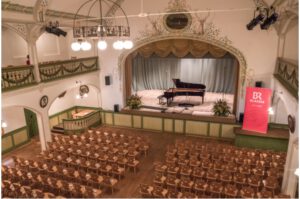 Be our guests:
in the Tenne at Gut Kaltenbrunn, Gmund
in Terofal Concert Hall, Schliersee
at Schloss Ringberg, Kreuth
and in Wallberg-Hall at the Seeforum in Rottach-Egern
Our principle programme principles remain as always: we strive to present the best of chamber music and have invited artists who guarantee this claim.
Programme     Artists     Ticket Sale     Locations
---
General Manager and programme: Helge Augstein
Organisation: Stefan Hahn / Rudi Wolf
Promoter: Musikfest Kreuth e.V.